Options
From VoxCommando
VoxCommando offers many options that determine the way the program works, how commands can be spoken, and also how VC interfaces with other programs such as XBMC (**EDEN only, Frodo settings are found in the plugin settings).
To access these settings, click "Options" on the top menu of the main VoxCommando window.
Options are broken up into different tabs.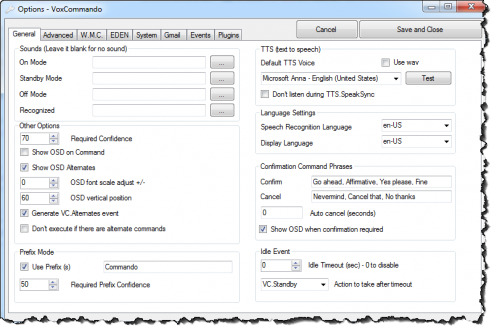 General
Sounds
On mode

This defines what sound is played when VoxCommando is activated.

Standby mode

This defines what sound is played when VoxCommando goes into standby mode.

Off mode

This defines what sound is played when VoxCommando goes into off mode.

Recognized

This defines what sound is played when VoxCommando has recognized a command and is about to execute it.
Prefix
When in standby mode, VoxCommando only reacts to certain commands that are set to be always on, such as "pay attention". If you enable prefix mode, you can issue any command while in standby by first saying the prefix.
For example, if you enable prefix mode and set the prefix to "Jarvis", you could execute a command such as "who is this", by saying "Jarvis, who is this?"
This will allow the command to execute, but VoxCommando will remain in standby mode. You can use multiple alternate prefixes by separating them with commas.
Enabling, disabling, or changing the prefix will require a full rebuild of all commands. This should be done automatically when you save your options and may take some time depending on the size of your media library.
The prefix can be more than one word (this is good as it will avoid false positives). You can also use multiple prefixes by separating them with commas.
Use prefix mode

Use this checkbox to enable or disable prefix mode.

Prefix

This defines the text that will be used as a prefix (or name). See above for an explanation. Multiple alternate prefixes can be used by separating them with commas. For example, if you want to be able to start your command by saying either "jarvis" or "computer" then you could fill in the prefix field with jarvis, computer.

Required PREFIX Confidence

VoxCommando must be confident that it understood you correctly before executing a command. Normally it is sufficient to define the confidence required for the command (see Other Options, below), however, you can further fine tune this by requiring a minimum confidence for the prefix as well as for the entire command. If you are not concerned with this, set it to a very low number like 1. If you get false positives based on the prefix you can raise this number, or try a longer prefix.
Other Options
Show OSD on command
If checked a small text window displaying the command will open whenever a command is recognized.
Show OSD Alternates
If checked, when you say a command, a text window will open showing possible alternate commands (if any) in a numbered list. To then execute an alternate say "Option 2", or "Option 3" etc.
Required Confidence
When VoxCommando hears a command it will have an associated "confidence" based on how well it heard you and if there are similar commands that it is listening for. Confidence is shown on the popup OSD, in the command history window, and in the large text box on the main VoxCommando window. Numbers close to 100 indicate that VC is very confident that it heard you correctly. You may experiment with this number to execute your "good" commands, while ignoring other sounds. If you have an accent that VoxCommando has trouble understanding you may need to lower this number.
When the confidence for a command is lower than the "Required Confidence" for a spoken command, a ? icon will appear in the history tab and the command will be ignored.
When the confidence is higher than "Required Confidence", a megaphone icon will appear in the history tab and the command will be executed.
Automatic Standby
Idle timeout in seconds
Enter a number here (in seconds) to have VoxCommando automatically switch to standby mode after a period of inactivity (no commands recognized). Set to 0 to disable this function.
TTS (text to speech )
Voice
This is the default voice that will be used by VoxCommando for text to speech. This means VoxCommando speaks any text such as song name, album, time, etc. using the voice that is set here.
By default, Windows 7 only comes with one voice (Anna if your OS is English). Good TTS voices are usually paid for. Do a web search and you may find some good free TTS voices. You can change the voice to another one via an action in your command.
If you want your TTS to speak in a certain language you must use a voice designed for that specific language.
Language Settings
Speech Language
Select the language that will be used for speech recognition. We also refer to this as the language of the speech "engine".
Standard configurations of VoxCommando that use English will default to English (US) but if you have an accent that sounds closer to British you should change this to English (UK).
If you are going to train Windows to understand you better, make sure that you are training the profile using the same language as you are going to select here.
You can only select languages that are installed on your system that support speech recognition. Windows Ultimate supports the following languages:

English (US)
English (UK)
French
Spanish
German
Chinese (untested with VC)
Japanese (untested with VC)

The phrases defined in the command editor should match the language as the speech language here. The default configurations are currently only in English (with some in German) but other configurations can be found on the forum or by asking another user for their language-specific configuration.
Some versions of Windows (such as Windows Ultimate) will allow you to easily install new language packs using Windows update. For most users it is recommended to select English because most media (song titles, artist names, and sometimes movies and TV-show titles) are in English. Of course, if your media library does not contain a lot of English titles and you do not intend to issue English commands you should choose the most appropriate language pack for your needs, if possible.
Even if you use English as the "speech engine", you can probably same many phrases in other languages by spelling phrases phonetically.
This is a complex topic that can be discussed in the forum if you need more help.
Also see the Languages wiki page for a more detailed discussion.
Display Language
Select the language that will be used for the VC interface (VoxCommando menus and buttons). For the time being, most items are only available in English. With the constant changes and updates to VoxCommando it was too difficult to update multiple languages. Hopefully more languages will be available soon, at least on key windows.

Confirmation Command Phrases

Any command can be set to require confirmation. For example, if you have a command to delete a file, or a command to shut down Windows, to be safe you may want to require confirmation so that the command is not triggered by accident. Commands can be set to require confirmation in the LCB (Logical Command Builder). See the image at right. By default, most commands do not require confirmation.
Confirm
Specify the phrase(s) that you wish to speak to confirm a command (when required).
Cancel
Specify the phrase(s) that you wish to speak to cancel a command (if it was triggered by accident, or you changed your mind).
Auto cancel after (sec)
After a certain amount of time, if you do not confirm a command, VC will automatically cancel. Here you can set the amount of time before this happens.
Advanced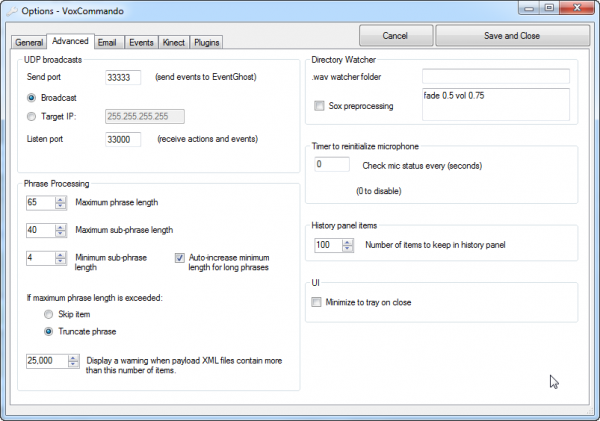 UDP broadcast
Send port

Set the the port for sending events to EventGhost. EventGhost needs to have the Broadcaster plugin enabled and set to listen on this port.
Broadcast or Target IP radio button

If Target IP is selected, then you must specify the IP address to send UDP messages to.
If Broadcast is selected, then the IP will be set to 255.255.255.255, which means that all machines or devices on the LAN will receive the message provided that they are listening on the correct UDP port.
Listen port

VoxCommando will listen for UDP messages on this port.
Phrase Processing (PayloadXML)
Settings that affect how VoxCommando processes payloadXML files.
Whenever you create a payloadXML file, you have the option of checking the "SubMatch" box. The Phrase Processing advanced option defines the minimum and maximum sub-phrase lengths (in characters) that VoxCommando will recognize if that box has been checked.
If you only ask for part of a song or movie name, for example, VoxCommando can still recognize your command (if submatch is enabled for that phrase). This is what allows you to ask VC to "Play artist Marley" when what you would actually like to hear is the artist "Bob Marley and the Wailers".
Note: The complete phrase will always be one of the possible phrases even if it happens to be shorter than the minimum length specified here.
Directory Watcher
Wav folder watcher

Default: leave blank
If a local folder (directory) is specified, VoxCommando will monitor this folder. Whenever a new .wav file is detected, VoxCommando will attempt to open the file and process the audio contained in the file, as speech. The file will be automatically deleted after processing is complete.

Sox preprocessing

It is recommended to leave this at the default setting: unchecked.
Time to Reinitialize Microphone
Mic check status every (sec)

Is sometimes useful if your usb microphone disconnects itself. Set this to number of seconds between checks. If VoxCommando determines that it has lost connection with the microphone it will reinitialize. Set to 0 to disable. Recommended to leave off unless you determine that you need to use this feature to stay connected to your microphone.
WMC (Windows Media Center)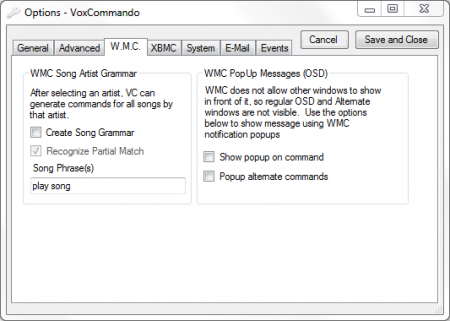 WMC Song Artist Grammar
After selecting an artist can create VoxCommando for all titles from this artist, commands.

Create Song Grammar - Grammar created title
Recognize Partial Match - recognize partial matches
WMC Pop Up Messages (OSD)
WMC does not allow other windows to the front, the OSD window is not normally visible. When using the options below, WMC in information window displays.

Show popup commands
Show popup for alternative commands




=EDEN (XBMC)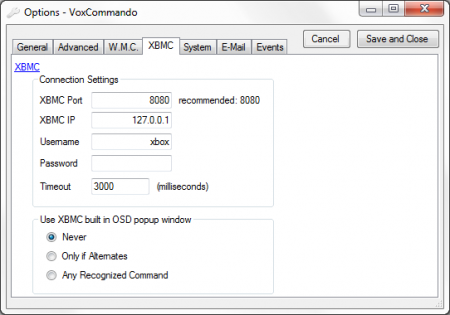 Connection Settings

Settings are mostly self-explanatory.
Use XBMC built in OSD popup window
If selected, recognized commands and alternates will be sent to XBMC and displayed using the XBMC "notification" system.
If you are using XBMC in "true fullscreen" this is one way to get around the fact that XBMC will "hog" the display and won't allow other windows to appear in front of it.
System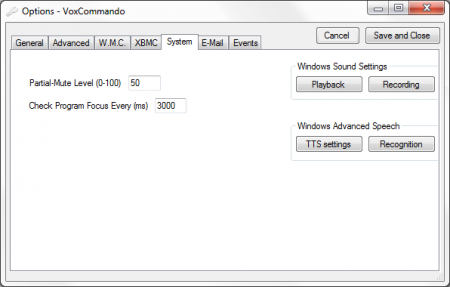 Partial Mute Level (0-100 )
This sets the temporary reduction in volume as a percent of the current system volume when using the action
Note: This setting is deprecated and will probably be removed since the value can be set as a parameter when calling the action.
Check Program Focus Every (ms)
This is the time in milliseconds (1000 ms = 1 sec) that VoxCommando will wait before checking to see which program has focus. If VC determines that focus has changed to a new program an event will be generated and will appear in the history tab.
Windows Sound Settings
Here you can access the playback and recording settings of Windows.
Windows Advanced Speech
These buttons will take you to the Windows configuration windows for speech recognition and text-to-speech:
Text-to-Speech settings are usually controlled directly by VoxCommando and don't need to be modified here, but it can be a convenient way to see what voices are installed and do some testing.
You can set the default voice used by Windows TTS, create speech profiles, do speech training etc. It can also find the language profiles for different user training, which then can be changed via a command in VoxCommando. [I will expand this later, but VoxCommando must be restarted in each case after a change in the language profile.]
For more information visit http://windows.microsoft.com/en-ca/windows7/setting-speech-options
Gmail
Gmail Settings
If you wish to use commands to check for new email messages on your Gmail account then you will need to enter your username and password here so that VoxCommando can access your account.
For your security, values are encrypted using your main hard drive ID. Therefore, if you move your VC settings to another computer (or accidentally send your VC options to another user) this information will not be readable.
Disclaimer: If for some reason your credentials are readable by others who have access to your options file, we will not be held responsible.
SMTP server settings
Set up the SMTP account settings that will be used when sending email with the SMTP actions.
Events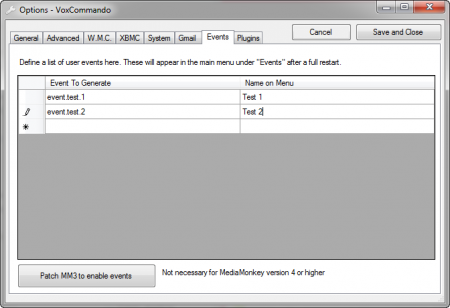 Note: Most users don't need to worry about this feature...
The Events table found on this tab allows you to define event "shortcuts" that you can trigger on the event menu of the main VoxCommando window.
This can sometimes be useful for testing commands.
If no events are defined in this Options tab, then the "Events" item will not appear on the main menu.
Plugins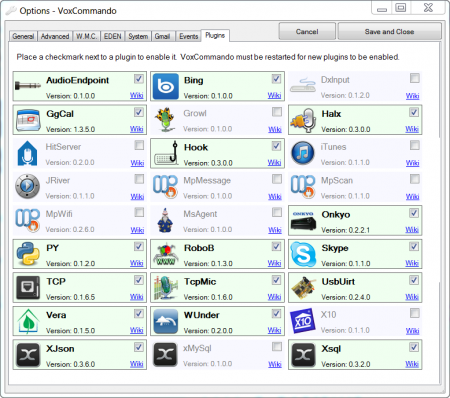 On this tab you can toggle active plugins on and off.
In order for the plugins to become active, you must click Save, and then restart VoxCommando.